Cosmetic dentistry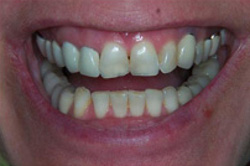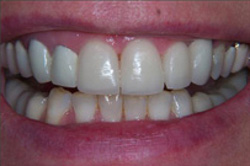 Having a healthy, bright, beautiful smile enhances your appearance and allows you to smile with confidence. Dr. Maron can help you improve your teeth and smile with painless and affordable treatments. He uses plastic fillings, porcelain veneers, or crowns to fix misshaped teeth and bleaches teeth to whiten them.
Plastic fillings—We now use the Bioclear method for our cosmetic plastic fillings. We are able to repair fractured teeth or misshapen teeth and restore teeth that would have required crowns years ago. Using the Bioclear technique involves injection molding of heated composite to shape teeth and restore large cavities. Heating the plastic (composite) makes it stronger. It also decreases porosity that can cause staining and decreases future breakage and chipping, giving restorations that last more years.
Porcelain veneers—These custom-made semi-translucent shells cover the front side of teeth. They are appropriate for treating spaces between teeth and for masking teeth that are chipped or worn, permanently stained, poorly shaped, or slightly crooked. In situations where the tooth is too badly broken down for a plastic filling, using a porcelain veneer is a more conservative treatment than using a crown because we only need to remove a minimal amount of tooth. We use our Easyshade® spectrophotometer to help select a color that will match the adjacent teeth.
Porcelain crowns—Also known as caps, these custom-made translucent shells match your tooth color and surround and support the entire tooth. They are appropriate for protecting teeth from breaking; and for teeth that are already broken, discolored or badly shaped. Porcelain crowns are natural looking and bond well to teeth. To have the crowns blend in with the adjacent teeth, our office uses the Easyshade spectrophotometer to help determine the proper tooth color.
Zirconium crowns—Fabricated using CAD/CAM computer-generated technology, these crowns are made of the same hard material as artificial diamonds. They are very strong and natural looking. We use zirconium crowns in areas of the mouth where strength is important. We use gold crowns where strength is a primary concern.
Bleaching—If teeth are intact, but do not have a pleasing color, our choice is to whiten the teeth using a peroxide solution. The patient performs this treatment at home by filling customized mouth trays and wearing them for an hour a day until the teeth lighten. We offer an in-office version of bleaching, but this treatment is no more effective and is more expensive.