Testimonials to Dr. Maron's dental practice
My "dental fear" is gone since I went to Dr. Maron
"Dr Maron and his entire staff do excellent work and are very friendly and supportive. I have bad teeth and had developed a bad case of "Dentist Fear" because I went to bad dentists. The fear is gone since I went to Dr. Maron many years ago. He created a retainer for my lower front teeth, and he must be a great engineer since it fits perfectly. My favorite hygienist is Mary, who always does a great job. Happy customer who will continue to use Dr. Maron."
I feel confident in my treatment at Dr. Maron's office
"There is a friendly atmosphere from the office staff to the dental assistants and Dr. Maron. I have been going there for many years and have received great care from everyone.
Dr. Maron on the last visit repaired by two front teeth that showed the ravage of 81 years. He used a new technique that he recently learned at a conference. He keeps up with the advances in dentistry and the science behind it. I can't tell that the teeth were repaired. The teeth are a perfect match in color. He explained what he was going to do, which I appreciated.
The interaction with his assistants demonstrates that he is also a good teacher. He gives a complete exam to check for any problems in the mouth, under the tongue, and in the throat. I feel confident in my treatment at Dr. Maron's office."
Top notch, pain free dental care at reasonable rates at Dr. Maron's
"I have been a patient at this practice for over 30 years and would not go anywhere else! It's a perfect dental team from the friendly staff that greet and make you feel like family, to my hygienist Mary whose cleanings are above and beyond, to Dr. Maron and his assistant Joann who provide top notch, pain free care, and all at reasonable rates."
Dr. Maron is, hands down, a 10 dentist
"Dr. Maron has provided outstanding dental care to me and my family for over 30 years. On a scale of 1 to 10 (with 10 being the highest score), Dr. Maron is, hands down, a 10, for many of the reasons identified in other testimonials that I read."
Dentist Dr. Maron never tries to sell you any extras
"I have been going to Dr. Maron for a few years. He explains everything going on with your teeth. He never tries to sell you any extras and his staff is wonderful. He also is up on new procedures. I highly recommend him. I tried to see if he would open a satellite office in North Carolina but he is happy with his office here in New York.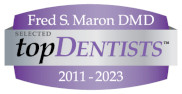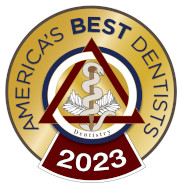 Online reviews
For the latest reviews of Dr. Maron's practice, see the Online reviews page on our website.