Testimonials to Dr. Maron's dental practice
Top notch, pain free dental care at reasonable rates at Dr. Maron's
"I have been a patient at this practice for over 30 years and would not go anywhere else! It's a perfect dental team from the friendly staff that greet and make you feel like family, to my hygienist Mary whose cleanings are above and beyond, to Dr. Maron and his assistant Joann who provide top notch, pain free care, and all at reasonable rates."
Dr. Maron is, hands down, a 10 dentist
"Dr. Maron has provided outstanding dental care to me and my family for over 30 years. On a scale of 1 to 10 (with 10 being the highest score), Dr. Maron is, hands down, a 10, for many of the reasons identified in other testimonials that I read."
Dentist Dr. Maron never tries to sell you any extras
"I have been going to Dr. Maron for a few years. He explains everything going on with your teeth. He never tries to sell you any extras and his staff is wonderful. He also is up on new procedures. I highly recommend him. I tried to see if he would open a satellite office in North Carolina but he is happy with his office here in New York.
Highest level of dental and personal care with Dr. Fred Maron
"Dr. Fred Maron has been by family's dentist for 20 years. We are grateful to him for providing us with the highest level of dental and personal care. Our daughters grew up utterly without the fear of dentists that those of us grew up in the 1950s experienced--and for good reason, because besides being a superb technician, Dr. Maron is such a caring and calming presence. His concern for his patients is palpable.
While located in Poughkeepsie, 70 miles from New York City, Dr. Maron goes to great effort to keep up with the latest developments and is constantly working on his skills. He started as a Phi Beta Kappa graduate of college and kept pushing himself to do his best as a dentist throughout his career. He shows no sign of stopping.
But it's not all technique.
Read more: Highest level of dental and personal care with Dr. Fred Maron
Would go to no other dentist but Dr. Maron
"My husband and I have been Dr. Maron's patients since 1988. Would go to no one else. He is not an alarmist regarding work needed. Very patient and understanding. Always takes time to answer and explain any of our concerns. We like him so much that even though we have moved from his area, we go back to him for our care. We appreciate his care and concern for us over the years. His staff is as caring and professional as he is. I am particularly pleased that they have been with him so many years; a true reflection of his abilities and concern for all."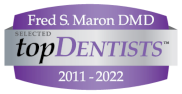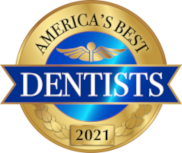 Online reviews
For the latest reviews of Dr. Maron's practice, see the Online reviews page on our website.