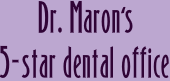 Dr. Maron and his staff have 5-star ratings on Google, Yelp, RateMds, Wellness, Healthgrades, and Angie's List.

Office location
Dr. Fred S. Maron
541 Haight Avenue
Poughkeepsie, New York
12603
Phone: (845) 454-0380
FAX: (845) 454-2320
E-mail: contact@marondental.com
Testimonial
"He requires strictest adherence to hygiene in his office and of his staff members."
Wheelchair accessible
Our office has a wheelchair-accessible entrance and bathroom.
Did you know?
Obstructive sleep apnea can shorten your lifespan by 8-10 years. Dr. Maron makes appliances to treat sleep apnea. Call today for your free consult.
Testimonial
"I have been to other dentists over the past many years, but I think Dr. Maron is absolutely the best. No pain. Modern techniques. Superclean office. Wonderful staff."
Did you know?
Using a rubber dam or the newer Isolite to keep the teeth dry eliminates the need to use cotton rolls in your mouth.
Emergency care
Dr. Maron tries to see emergency dental patients during office hours on the same day the problem occurs. If you have a dental emergency, call early in the day.
If your emergency occurs after office hours, call our office for instructions on how to reach Dr. Maron.
Did you know?
Each staff member has a radiation badge to ensure the proper levels of radiation are being used.
Did you know?
Dr. Maron can straighten your teeth using virtually invisible plastic aligners (Invisalign®).
Consistent care
Unlike group dental practices, where you might see a different dentist every year, you see Dr. Maron every time.
Did you know?
The waterlines for our drills use a special additive to kill any bacteria in the waterline.
Testimonial
"He is constantly updating his equipment and techniques. I currently live in the City and come back to see him because he is the best."
Solutionreach™
Our Solutionreach™ software will send you e-mail and text message reminders 1 week, 1 day, and 2 hours before your appointment. We can also customize the reminders to your preference.
If you want e-mail reminders from our office, you may have to set your spam software to allow Solutionreach.
Did you know?
Small details matter. Our office has dedicated air lines to prevent moisture contamination of our plastic fillings.
Affordable dentistry
Unlike some offices that "take" your insurance and then sell you expensive treatment, such as crowns, our office tries to find the least expensive treatment to fix a problem.
Did you know?
Poughkeepsie city and town no longer have fluoride in the water. We prescribe fluoride tablets for your children.
Did you know?
We can detect your cavities sooner by magnifying your digital x-rays on large computer screens.
Testimonial
"Dr. Maron and his staff are wonderful. Anyone with children I highly recommend Dr. Maron."